Charter Deportation to Afghanistan
The next charter deportation is supposed to take place on the 3rd of July 2018 from Munich airport. Here you find information on the planned demonstrations.
Inhumane conditions in the detention center in Darmstadt
The group "Bündnis Community for all – Solidarische Gemeinschaften statt Abschiebegefängnis" has issued a press release due to the inhumane conditions that refugees face in the detention center in Darmstadt which opened just recently.
Click here to read the press realease.
We want to show our solidarity with all refugees in detetion centers and demand freedom of movement for all instead of detention centers.
Migration is not a crime!
Demonstration against Charter Deportation to Afghanistan
On the 22th of May 2018 will be a charter deportation to Afghanistan from Frankfurt Airport. There will be a demontstration against it at 6 p.m at Terminal 1 departure B.
Charter Deportation to Pakistand
On the 8th of May 2018 will be a charter deportation to Pakistan from Frankfurt Airport. We have no information about an exact time.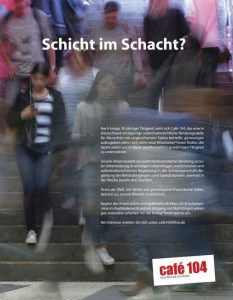 Das Café 104 in München sucht dringend neue Mitarbeiter*innen!
Nach knapp 20 jähriger Tätigkeit, sieht sich das Café 104, das in München eine in Deutschland einzigartige aufenthaltsrechtliche Beratungsstelle für Menschen mit ungesichertem Status betreibt, gezwungen aufzugeben, wenn es nicht neue Mitarbeiter*innen findet.
Die Arbeit des Cafés besteht aus aufenthaltsrechtlicher Beratung, sozialer Unterstützung in wichtigen Lebensfragen, medizinischer und aufenthaltsrechtlicher Begleitung in der Schwangerschaft, Begleitung bei Behördengängen, und Sprechstunden zweimal in der Woche für jeweils drei Stunden.
Ärzte der Welt, mit denen sich das Café 104 gemeinsame Praxisräume teilt, betreut u.a. deren Klientel medizinisch.
Beginn der Arbeit sofort und spätestens ab März 2018.
Vorkenntnisse im Ausländerrecht und im Umgang mit Flüchtlingen wären gut, ansonsten werden neue Kolleg*innen gerne eingearbeitet.
Bei Interesse können Sie sich hier melden: cafe104@live.de